It's Becoming Real…..
Old joke – what's the difference between eggs and bacon? It's the difference between involved and committed – the chicken is involved, but the pig is committed…..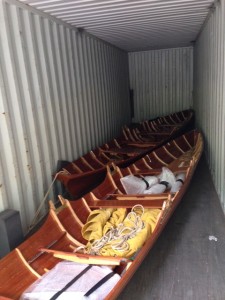 So today, we loaded the two Thames Skiffs onto the container to be transported to the mid west for the beginning of the project. As the doors closed on the container, there was the sense that, for the purposes of the the project, we in the core team had just become pigs.

The Project. I had better introduce myself and this madness about which I will be writing for the next few months. My name is John Pritchard, I am 56 years old, I live in London with my wife Julie and in a few short weeks I will begin my journey to row just under 2,500 miles from Lake Itasca in northern Minnesota down to New Orleans in Louisiana. It will, if I am in anyway lucky (and frankly I will take all the luck and breaks I can get), take three months, rowing essentially a marathon per day interspersed by a few much needed rest days. I will not be alone. I will have around 50 intrepid and unquestionably slightly deranged friends joining me, all of whom have undertaken to not only row two marathons over two days with me, but raise a ton of cash. For there is an objective to this. I aim to raise over $1,000,000 for Right to Play, a children's charity. Have a look at these two links – www.mississippmillion.com and www.righttoplay.com  

I will also have with me a "core team", who will be with me for all three months. I was astonished at the kindness of the friends who will participate, but utterly humbled by the core team members who are giving up significant chunks of their lives to make this thing happen. My intention is to introduce the core team to you as we go, as well as something about the participants. I am also aiming to write this blog (at which I am a complete virgin – at least until I press the "publish" button).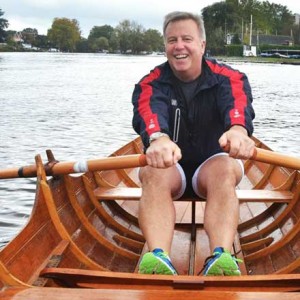 To make the journey just a little more spiky, I am going to attempt the row in Victorian Thames skiffs, made of African (sustainable!) mahogany, the design of which is essentially unchanged after two hundred years or more. I love the idea of an eccentric middle-aged Englishman, rowing the length of the most iconic river in North America in a Victorian wooden boat with fixed seat and fixed pins (geek alert – I am a rower and rowers will know precisely what this means and love the arcane nature of the boats). I am also told that when my technological expertise increases (somewhere between now and the freezing over of Hell), I will be able to add photos, so I promise to get right on that…..

Tomorrow morning I leave with Graeme Mulcahy (one of the Core Team, hereinafter known as the CT). We fly to Minneapolis and thence by car to Itasca, We are scouting the top section of the river and I will write something from the splendidly named Lake Bemidji about what happens next……

Keep smiling

JP