Heroes – Graeme Mulcahy (Mulk the Hulk)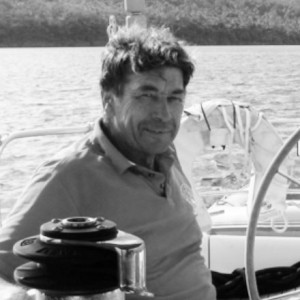 Hard to know where to start without this becoming a nauseating encomium of praise. What the hell – a paean it shall be.
I have known Graeme since I was 11 years old and he was my biology teacher at St Clement Danes School and I was an unteachable, gobby teenager. I do not recall him ever despairing – I doubt much that he really noticed me – but he did whack me with the spine of a Nuffield Biology textbook for talking in class (again). I will wait now for the general applause to die down…..
 I left school at 16 (the next few years is a two beer story at least) and I was rescued from a different path by rowing where I re-met Graeme. By now I knew he was a formidably fast international sculler, competing in the quad sculls at the World Championships in 1975.  He just missed the 76 Games in Montreal, but won the Wingfield Sculls, the true mark of a sculler, for many years apparently at a canter. I was in awe of his speed, but he also began to develop into an extraordinarily generous coach. At first, it was a slow evolution into full time coaching, but it was and is a mantle he wears astonishingly lightly. He has now coached countless beginners, all the way through to International and Olympic medallists. Like the very few great coaches, he treats them all with the same patience, kindness and attention to detail.
 When I first mooted the Mississippi project, especially as it was to be in one of his beloved skiffs, he was immediately interested. I remember him saying "I can't promise lots of cash for the pot, but I can give you some time". Let me tell you that "some time" turned out to be a completely selfless devotion to making this project happen. He will be with us for all three months in the US and will be in charge of all we do on the water. If we succeed, whether we dribble over the line shattered or roar through, a very, very large debt will be to Graeme.
Over the second half, Graeme will be accompanied by his wife, the unimproveable Gillian. A proud Lancastrian, we can rely on her to call a spade a spade and her particularly low tolerance of bullshit will be especially welcome. Gillian says of Graeme "he is a man of few words, and he certainly doesn't waste many on me"! Well I can tell you, we will all hang on every precious one….
Next up, Paddy Broughton – the lynch pin.