Lake Pepin or "I told you so"..
My unimproveable wife, Julie, has a cousin Kim, who is married to a truly great guy called Shad. Shad's family has fished Lake Pepin commercially for decades and as soon as I mentioned that I was contemplating the Mississippi project, he said "that means you will be crossing Lake Pepin, right?" I said that was the case and that the skiffs were very durable boats that could withstand whatever washes (US translation – wakes) that the Thames and its river craft could throw at us. Shad looked somewhat pensive and said "have you seen lake Pepin….."? I had to confess I had not.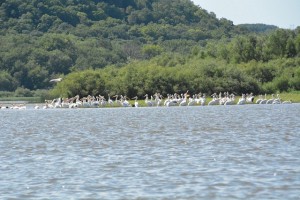 Since we arrived here, those folk that know Pepin largely echoed Shad's concerns and here is why. Pepin is approximately 20 miles long and the Mississippi enters at one end and leaves at the bottom, therefore requiring covering the entire length of the lake. In turn, this means that a north or south wind can build up over a significant distance, rendering a modest breeze into boat sinking waves. In addition, the lake is surrounded by the most beautiful soaring bluffs, around which bald eagles and hawks soar in search of prey. But these bluffs also exacerbate the wind, causing it to accelerate and gust suddenly, turning even placid waters into a cauldron in minutes. If you then add the super fast cruisers and speedboats, you can see how you could have a very tricky expanse of water to negotiate – and so it proved.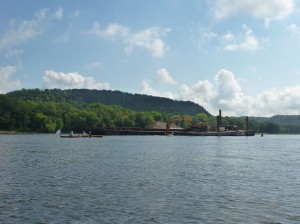 We ended yesterday with Chris Gate and I rowing one boat and Paddy, Jerry and Julie (steering) in the other. After 29 miles of serene (ish) rowing, we entered Pepin for the final 5 miles. There was some breeze, but mainly following and we pushed on away from the shore with light hearts for the final push. I started to notice the waves begin to build and roll and then over in the far distance I saw some white caps. I mentioned this to Paddy in the other boat, but we felt good and pushed on. The white caps then got closer and closer until we were well and truly "in it". We started to head towards shore and contemplated putting life jackets on the coxes as the waves grew higher. We picked our way, exhausted, over the last few endless miles and reached our destination intact, but chastened. The boats had not shipped a drop, but frankly two or three more inches on the waves and we would have been swamped. What speed was the wind? 5 mph……… See what it looked like here: https://www.youtube.com/watch?v=R_fc63rg0kM&feature=youtu.be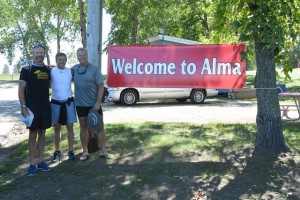 This morning, joined by Kevin Arnold who has so far shamed us all with his fundraising, we set off at 8am to cover the last 14 or so miles of the lake in calm water with only a breath of wind. Now Kevin is not the most experienced rower, but we were fine. For a while. From nowhere the wind picked up the waves exactly like yesterday. We had foreseen this and swapped in Paddy for Kevin and the two of us rowed like bastards for an hour to cross the lake and get to the lee of the far shore. We managed it and eased towards the mouth of the lake and the resumption of  the Mississippi and a decent flow. It was close again. The wind speed? 4 mph………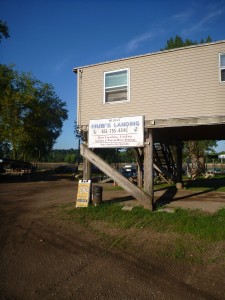 So, Shad, you were right. Pepin deserves its reputation as utterly beautiful and dangerous in equal measure. Once again the river let us know who is boss and once again we tip our hats and agree.