In Sight of the Twin Cities
When we began to properly plan this extravaganza, reaching New Orleans seemed an almost impossible task (frankly it still seems bordering on science fiction) but we have at least now begun.
The first, and frankly symbolically important achievement, was to reach the Twin Cities. Some readers will know that Julie and I were married in Minneapolis and so these two very different but equally wonderful cities are close to our hearts. I knew that if we made it there, still in reasonable heart with most of the bits still intact on our inevitably weakened bodies, we would have taken a major step towards our distant goal. Tomorrow, if we are lucky, we will row through the first three of many locks – Upper and Lower St Anthony's Falls and the deeply unromantically named Lock Number 1 – and on through Minneapolis and on to St Paul. But, as ever, it will not come easy.
Last night we were joined by a very important guest, Johann Olav Koss, founder of Right To Play and much medalled Olympian. My father in law, Harry Williamson, drove all the way from Iowa City with a Norwegian flag in Johann's honour.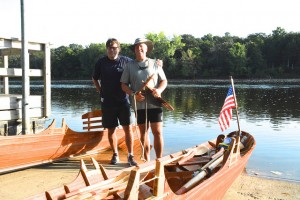 However, I have to tell you now, ladies and gentlemen, Johann was economical with the truth about the amount of rowing he had done in preparation for his two days. I am glad he only revealed the truth after we finished…….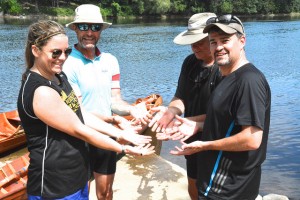 JK joined me, with Jerry Dale steering. The other boat was Paddy and Jeff Hughes, with Kelly steering. We had to cover 32 miles due south, into a 10mph headwind, rowing the last 5 miles towards a dam and the consequent end of any helpful flow to speed our progress. That is to say, it was hard and got harder. We managed to negotiate some unexpected rocks at the beginning, some of which were the size of small cars. Jerry even stopped telling stories (at least for a few minutes) as we swung this way and that, terrified of destroying the boats.


We got through these rapids and then just kept pushing on, like the fish in Finding Nemo – just keep rowing, rowing, rowing. The headwind pushing us back, us pushing into the wind. Mile after heavy mile we kept going until we could see the dam, which was our finish point. 7 hours of lifting, but we made it. We were all pretty tuckered, as Paddy would say, but we had not faltered.
It was at this point, as I was congratulating Johann on his heroic effort, that he revealed that this had been his third time in a boat. Ever. Amazing effort and he is on for tomorrow for sure (at least that is what he said after the second Sam Adams! (by the way, when is that Brewery going to start reading this blog and send us some "product"?)

So, dear reader, as Churchill once memorably said "I t is not the end. It is not the beginning of the end. But it might just be the end of the beginning"
 27 miles tomorrow. More headwind to face, but the prospect of two rest days, two massive events and lots of friends and family in town will keep us going.