The Battle of Hastings
It was as bad as we feared.
We have become obsessed with watching the weather forecasts here, arguing about which is best. Accuweather, shouts one. Weather.com shouts another. We have all now agreed that a) hourly breakdowns are key and b) several sources are better than one. After two fabulous days in the Twin Cities, but very little rest and one or two too many Jim Beams, we had been watching the weather avidly and with growing concern for several days.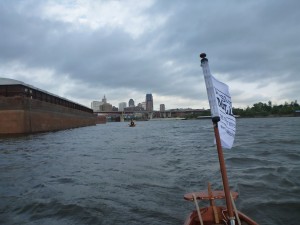 Sunday came and we resumed to the project, joined by Chris Gate and his son Freddie, and Charlie and Pamela Schroeder.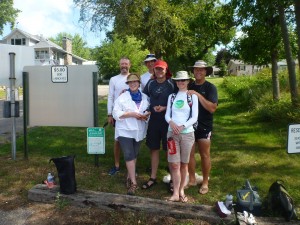 Chris has been skiffing with me for well over two years now, so is properly "blooded" but Charlie Schroeder a relative novice, having had only three brief sessions in a skiff. Stalwart he is, but we were concerned he and we would be up against it.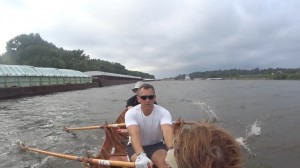 What this translated into was very choppy water with white caps everywhere from the moment we set off from the Twin Cites, cheered by family and friends. We were soon in the absolute thick of it, water blasting against the boats and just – only just – failing to breach the gunnels. After managing 6-8 mph on some stretches, we were down to 2-3 mph and the wind grew ever stronger.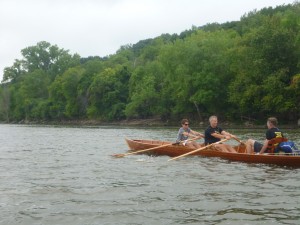 Charlie pushed on, uncomplaining and cheerful, but tiring fast. After five hours, I swapped in Freddie Gate and Charlie steered. On we pushed, swapping Paddy for Freddie to give him a rest and keep some boat speed going. We finally reached the lock at 4 pm, 26 miles and 8 hours later and I was feeling really beaten up by the conditions. Paddy has a twinge in his back. Chris Gate has some heroic blisters on his derriere to be treated. Charlie Schroeder looks like someone returning from a stretch in the frontline trenches. I just look older…..
Demain est un autre jour – tomorrow is another day, but tonight I rest. Tomorrow I will be ready for sure, but I will be keeping a very, very close eye on that weather.