The First Two Days – A Game of Two Halves!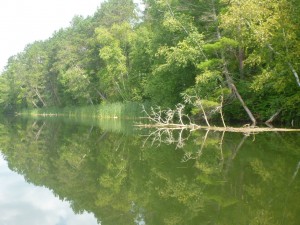 We have completed two days of this epic.  A small, but for us, a significant little milestone.  All of the months of planning and the attendant worry and strife. All of the help, support and encouragement from family, friends, colleagues and clients culminated in one early morning at Lake Itasca on the 2nd August, the year of our Lord 2014.
I woke early after another night of sub-optimal sleep, my mind racing with concerns, a condition, which those of you poor souls who have experienced the 3am demons will recognise all too clearly. I had a snatched breakfast – I have always found it difficult to eat and drink before a big race and this is a BIG race for me – we set off to the launch spot at the Lake. With us was Julie, my wife who had flown from London for the weekend to be head cheerleader, my father in law, my sister in law and my niece.  Wonderful, I was, I regret to say, a little short with people who were all trying to help me. I couldn't understand that they couldn't see that I just wanted to start!!! Jeez……
So we set off to great fanfare and some trepidation in the two Grumman aluminium canoes. The Mississippi for the first 125 miles or more is just too narrow for the skiffs (which, in contrast to us grizzled fools, garner admiring glances and questions from all), so we have to use canoes. The two crews were me and my father in law, Harry Williamson (aged 83.99) in one canoe for the first few miles and Paddy plus Mark Wilson, my great friend who had flown from Canada to be with us for the first three days.
Day 1, was to be a very gentle introduction to the river, covering a mere 16 miles through gently flowing streams and in glorious countryside, the trip spiced by some very modest rapids. It turned out, very quickly, to be a much, much harder proposition than any of us imagined. The water was on the low end of normal, which meant we were running into rocks, sunken logs, sandbanks and gravel beds. This necessitated getting in and out of the canoes and hauling them manually over each and every obstacle. Imagine an aquatic version of the Field Gun competition at the Royal Tournament (look it up on YouTube). Well, it was like that, except that instead of lasting 2 mins 40 secs, it lasted nine hours….. Yep, we finished the 16 miles at 18.00 and although I felt strong, it was a very, very tough introduction. By the way, Harry, being very smart, let me do the work for the first two miles, took a look down the river and said "thanks for that, see you later". Age and wisdom, eh?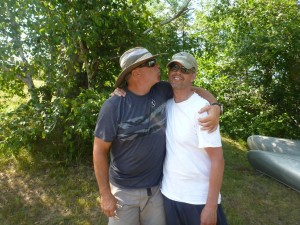 After sleeping the sleep of the dead in a tent with Paddy and Mark, we set off on day 2 with Graeme subbing in the canoe with me. It was a day of glorious weather, unbelievable beauty with bald eagles and other creatures everywhere. The Mississippi showed us another side and we positively flew down the river, this time managing 26 miles in 7 hours, finishing feeling fresh and recharged for tomorrow. So, a game of two halves, as the egregious commentators are want to say. Any idea that we would be masters of this river were dispelled immediately, not by huge expanses of water, biblical rains and tornadoes or commercial traffic, but by 16 miles of dark woods with swirling streams containing slippery, ankle breaking stones. We will never, ever take this river for granted.
Tomorrow is day 3 and who know what that will bring…….