The Next Phase
Good evening from the Battle bus, our ludicrously well appointed RV, generously donated to the cause by an anonymous donor (thanks Chris!).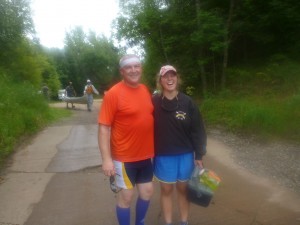 We have just bade farewell to the Pasternaks, Mike and his daughter Janey. Boris was his usual unintentionally hilarious self, managing to keep us entertained for hours with stories of his nascent business farming Sturgeons and their glorious product out in California. Per his normal way of looking at the world slightly obliquely, his preparation focused on hydration at its maximum, so his ambition was to pee regularly. That is to say, he set his objective at least every 30 minutes. Now, apart from needing to consume a heroic amount of fluid in order to "charge the pump", he also needed to find karma sutra type exotic poses to pee out of the skiff without tipping his crew in. This he achieved with no small amount of aplomb, but with paroxysms of embarrassment from his daughter (actually, I suspect she had seen it all before, if you get my drift….). We were sad to see them leave.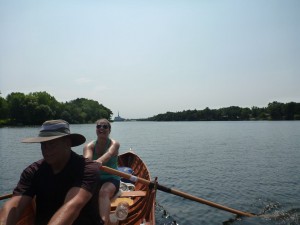 This is the start of a new phase of the trip – the run into the Twin Cities and beyond to the family party in Guttenberg, Iowa. Tonight we were joined by Kelly Ennis, from Philadelphia. Kelly is an intrepid rower, game for any challenge, who read about the project on the web and was moved to join, especially when she read about Right To Play. Kelly began by describing one of her recent challenges as an "ergothon". Those readers who are rowers will immediately get a picture f this insanity. Kelly told us her contribution was rowing on the infernal rowing ergometers for 10 hours….. I still feel queasy, but am pretty sure she will be just fine in the skiffs.
 


Later tonight, Jerry Dale joins us for a couple of weeks. I have known Jerry for about a million years and he is one of the great characters in the rowing scene. I first saw him at the Tideway Scullers winter training gym. I was very young and Jerry was one of the older members. As we were clearing the room weights, Jerry, who was carrying a 25lb disc, knocked his elbow on a door frame and the disc flipped back and hit his front teeth, cracking one diagonally across and the piece fell out. The whole changing room of big men winced at the sight. I asked if he was ok and then whether it had gone through to the root. His reply, which caused grown men to gag, was "dunno, so I am going to have a bite of a Mars bar to check"…… Jerry will fit in just fine too.
 We have several more people coming, including the founder of right to play, Johann Koss. It is going to be some week….. Watch this space!