Twin Cities Part 2
From the moment we reached the dock at the St Paul Yacht Club, we were inundated with Sam Adams, support, family, friends and more Sam Adams (note: theme developing). For the rest of that evening and for the next two days, we were carried along on a tide of goodwill, with evermore friends appearing and the group consequently growing.
On the first evening, having scraped off days of Mississippi mud, sweat and a few tears (mainly due to laughter), we repaired to a bar in Minneapolis called Herkimer (no, really). An unprepossessing name, but huge fun. We had a table for 20 and we tried the wings as the starter of choice (note: upcoming blog on this key topic). A great evening, capped as ever by Johann Koss choosing the one item on the menu that most of us thought a late April fool joke – Waffles with Chicken. In advance of its arrival, we speculated about what this culinary conundrum might actually be, for what it most definitely could not be was waffles with chicken, how wrong we were.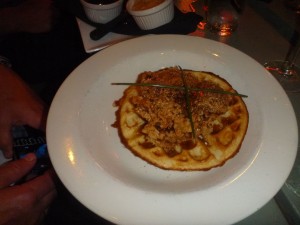 Up it came, a picture perfect waffle, with two jugs, one containing warm maple syrup, the second containing something that looked like nuclear waste but billed as sausage gravy. On top of the waffle was a piece of third rate Kentucky style fried chicken. Not only was there precious little edible flesh on this, but also it was coated in a layer of armour plated breading. Johann jumped in, poured both jugs, and tasted the combination hoping against hope for culinary alchemy. He instantly pronounced it inedible and handed it round the table to try. Few did and they gagged. Apparently, Waffles and Chicken is the dish du jour in the south these days. We can hardly wait……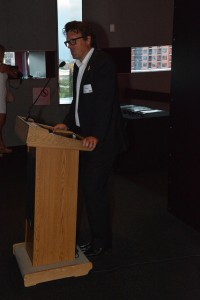 On Saturday evening, Dan and Trish Adams had arranged an event at the splendid Guthrie Theatre, overlooking the river. We had around 110 people for drinks and canapés in support of the project and generally of Right To Play. Johann spoke brilliantly as ever and I said a few words. The response from the room was wonderful and the whole team felt a real sense of coming home.
Sunday morning saw us back at the Minnesota Rowing Club (captain, Eric Otterness, one of the loveliest men around) paddling in the skiffs and taking out any of the rowers from the club that fancied trying their skills. It was a huge hit and I was on the water for 3 hours.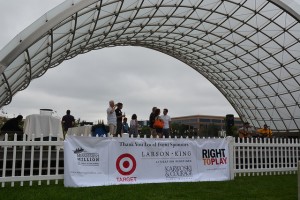 We then had a second event on Raspberry Island, generously spon
sored by Larson King, Target and Karwoski & Courage and we had a fab afternoon of barbecue, beers and music supplied by the brilliantly named and even better music of the Liquor Pigs as well as special guest appearance from Pat Courtemanche. We had more than 150 people and we raised more money for the project and we have all begun to see how the project is now starting to build real momentum, with more and more people spreading the word and evangelising the cause. We are beginning to realise that we can most certainly achieve our objectives as everyone we meet undertakes to spread the word.

Dear reader, we badly need you to do the same…. visit: http://rtp.r-esourcecenter.com/Event/index.asp?Page_ID=70
 The one downside to these two magnificent days, was an almost complete lack of rest and I fear that I may pay dearly over the coming days.