A tough one, Part 1….
Today was a major milestone for me, Paddy and the project. After the first 6 miles, we reached halfway to New Orleans and we celebrated with a bottle of champagne, shared with James Whitworth, who was rowing with me, and his girlfriend Olivia Cazenove, who was steering us, plus Stephen Gillespie and his daughter Maeve, who were with Paddy.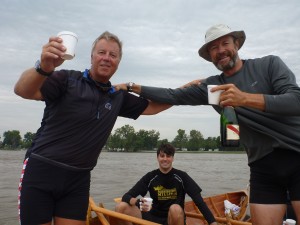 The rest of the day will be part 2, but before you all decide that I am a grumpy curmudgeon, I will share with you a letter from our good friend Dave Davies of Hannibal, Missouri, the worlds' happiest undertaker and who brought us a couple of presents to help us on our way. 
To John Pritchard and our new friends on the Mississippi Million -
I just thought you might like some Missouri cheese from our Amish friends. Notice the great price sticker! They are the most faithful and hard-working folks you could ever meet.
Also, I know a friend who has a neighbour who has a cousin somewhere between Hannibal and St Louis who sometimes makes stuff for his friends. I, being a friend, and you-all being my friends, I am providing you with some refreshment from the hills of Missouri. The bigger mason jar is called Apple Pie and is probably 80-100 proof. Serving size, one shot glass. The smaller is called Missouri Moonshine. It is 180-190 proof. Yes, it is the real deal. Use sparingly. A little dab will do you.  Straight or mixed.  It may not be for everyone. It does have multiple uses: paint brush cleaner, solvent for cleaning axle bearings, a great steriliser, kills grass in concrete cracks, etc
Some rules apply:
1 Do not break the glass
2 Keep away from fire and flames
3 Do not take it through airports or customs
4 Do not put in an empty stomach
5 Wait until all work is done. Sit and sip and don't ever gulp
6 Most important – never operate machinery after or during consumption.
Have a safe and memory filled trip. We will be watching your progress and remember what Sam Clemens said "a naked man rapidly loses all credibility"
 Your fans
 Ma and Paw from Hannibal