Gateway to the South…
Cairo, Illinois.
For quite some time now, at least two weeks before we reached St Louis, there has been a great deal of chatter amongst the team about "the South" of the USA and the Mississippi river in particular. We have canvassed opinion everywhere we could – in the locks, in the hotels, on the streets, in the shops and in the restaurants. Whenever we asked, we received a different answer.
Certain elements were always agreed. When we reached Arkansas and Kentucky, we would definitely be in the south. When we were in northern Missouri, that was (probably for most people) the north. The really tricky thing was defining precisely when the north became the south. We had noticed accents changing, but this was inconclusive. We noticed a prevalence of different foods on menus (biscuits and sausage gravy at breakfast anyone?) and lots of barbecue restaurants, but again nothing definitive. For all sorts of perhaps obvious reasons, not the least of which was to define our progress, we wanted to be clear about when we were in the south.
Yesterday, with me and Paddy rowing together on a gloriously sunny day, we encountered two guys in their kayaks. Richard and Don were old friends, probably in their late 60′s I would guess, who liked to spend time pottering up and down the Mississippi over a 50 mile stretch above and below Cape Girardeau. They were genuinely surprised and happy to see us and loved the boat we were in. They were sad that so few local folk used the river for pleasure as they were all too scared of it's fearsome reputation. However, this was the perfect time to ask two locals whether we were yet in the south.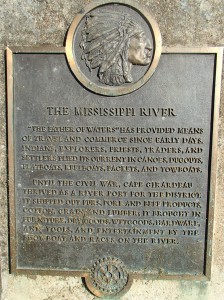 Both said that the scene in both southern Illinois and southern Missouri had changed. When they were boys, there was cotton grown to the banks of the river and people loved cajun food and bluegrass music. Folks had time for each other and looked out for each other. So, when pressed, Don (from Illinois) said yes it was the south and Richard (from Missouri) said not yet!
What has therefore become crystal clear is that the south of the US is a state of mind. It is a culture – food, music, art, drama and, without question, a historical perspective – that defines whether someone is southern. It also seems to be that you need a first person connection – either you are born in the south or have "people" in the south. It almost seems like a variant of the Irish grand mother (guilty) connection. What is also clear is a cultural pride in the region and especially in one's state. A proud Virginian, Louisianan or Texan (joke variant alert – you can tell a Texan. But not much…) is a prevalent an attitude as an association with the south.
Personally, I think that this cultural identity is a laudable trait, notwithstanding decades in which segregation and discrimination ruled. In a country with an extraordinary homogenisation of cities – Starbucks everywhere, identical shops and malls – cultural identity is eroded continually and I happen to believe it to be an important element and generally a force for good.
Suffice to say that tomorrow we will reach Kentucky and will then, unequivocally, be South.
We just waved goodbye to Chris Gate, founding supporter of this project and complete stalwart, who has been with us for the last few days. He stitched in several meetings so he could row with us for two days. A magnificent effort. Because he is a strong rower, we felt able to add to his mileage in an effort to clock up some big days. The four day sequence, ending tomorrow, has been 43 miles (JP and CG), 30 miles (JP and PB), 33 miles (JP and CG) and finally 50 miles (JP and PB).
156 miles in four days is tough, but we have a rest day thereafter.
We are now into the last month, and participants will be arriving every other day as momentum builds towards New Orleans. Although slightly tired, I am truly excited about this last month and what we are achieving. It is huge.