An injection of youth….
Vicksburg, Mississippi. 16th October.
The vicissitudes of work – a combination of the understandable disquiet about Ebola, falling growth in the US economy and worries about the eurozone – meant that our stalwart supporter and great friend, Chris Gate, simply could not make it back to Louisiana. He has been utterly four square behind me and this project since inception and his contribution cannot be overstated, so we were saddened that he could not be with us for the last legs. However, our disappointment has been somewhat assuaged by a combination of an injection of youth, the splendid Repton Salisbury, together with a tsunami of goodwill which was set in train by Paddy's uncle Jim Phillips, a long term Louisiana resident, social catalyst and generally fabulous guy.

As soon as Jim knew about Paddy's involvement in the project, he embraced it and us fully. Jim is an agronomist and consequently knows every farm and farmer in the state, as far as I can see. First off, he managed to find us accommodation at James Oscar Thornton's hunting lodge. The whole family rallied around and supplied a fabulous supper, followed by a return fixture with pancakes, bacon and coffee at 07.00. It was a joyous stop and we were all very sad that the rearrangement of our schedule meant we had three nights in a Holiday Inn instead of a couple of nights at the hunting lodge. But we were grateful nonetheless.
Partly as a result of Jim's extended mates in the area and partly due to folk we have met, we are gathering a serious collection of characters. Hank, from Greenville way, is sufficiently larger than life that we are reasonably sure that light actually emanates from him. He introduced us to Boll Weevil, a true river rat, who has a large river boat and has offered to follow us, plus any guests, all the way by river from Baton Rouge to New Orleans. This could be quite a party on the last day…. Then there is Ed and Billy. Ed hosted a wonderful dinner at Rusty's in Vicksburg last night. Today, Billy (arguably, producer of the most cotton in Louisiana – and that is a LOT of cotton) took us to see his cotton gin. Although now housed in a gigantic barn/factory and turning out tons of packed, cleaned cotton, the actual process has not changed since Eli Whitney invented it in 1793. It was an astonishing sight – truck loads of "unclean" cotton, full of seeds dumped at one end and then dried, processed through the gin, then clean cotton baled – all happens within minutes. The system is that the farmer gets the cotton and the person who owns the gin gets the seed (which is sold for cattle feed). Wonderful experience, enhanced by finding that all the chirpy and cheerful workers at the gin are prisoners from the local correctional facility.
Then dinner tonight at Billy's house by Lake Bruin – frogs legs, fried oysters, Louisiana shrimp, seafood gumbo, etouffee, red beans and rice and smoked tenderloin. We fell upon it…. A house filled by characters, the least interesting of whom was us!
And today's row was enhanced by young Repton Salisbury. A bit of background. Yesterday, I was under the weather. I had a slight temperature and a headache and had slept badly, partly worried by how I would be the following day. I was not good. I rowed the 32 miles with Paddy and then went straight to bed. I realised this morning that I had little recollection of the row the day before, which I guess is an indicator that I may have been worse than I imagined. Rested, I felt great today and ready for the row. Repton is a family friend of Leslie McCormack Gathy, a fellow board member from the UK who was unable to row because of illness. Repton, a junior at Duke University stepped into the breach and he was really good fun. He mercilessly poked fun at me and Paddy. When Paddy asked if he knew Ian Drury, the punk band leader, he said "was that somewhere around the time of the dinosaurs"? I think you get the picture. Needless to say, we returned fire and we will call it evens.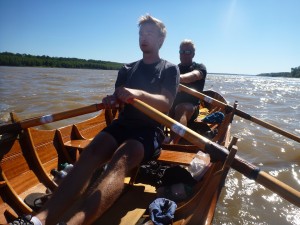 We rowed 44 miles in decent weather, climbed from the boat feeling good and looking forward to our time in Louisiana. Julie has, as ever, wisely counselled me to savour every moment of these last 9 days (yep, 9 days), as they will be truly precious. She is, as she reminds me, the smartest one… I agree.