Early reflections….
New Orleans, Louisiana. 28th October
I promised that I would write some reflections on our journey as soon as I was able to draw breath, and here they are.
I write to you from the hotel in NO, having finally managed to sleep through until 08.30 for the first time and enjoying a third day off the river. This last point is important as it marks the first time I have had three consecutive days of not rowing since August 2nd in northern Minnesota. After two days of true celebration (about which, more anon), I am finally able to take some time to cogitate on what we have done. First, my overwhelming sensation is of utter exhaustion. Even my fingernails are tired. If I could, I would go back to bed and try to sleep, sleep, sleep. The great healer.
Secondly, I feel curiously flat. I referred to this in an earlier blog, but it is a combination of weaning myself off the daily schedule – sleep 9 hours, eat, row 6/8 hours, eat, sleep, plus saying goodbyes to members of the core team (Graeme and Gillian left at 07.00 this morning to haul the boats and trailer to Houston, from where they can be shipped back to the UK), plus, of course, the dawning recognition that we achieved what we set out to achieve – always a peculiar feeling. We have not yet hit our $1m target though, so that work continues.
Thirdly, I feel strongly emotional. In part this is due to the farewells, but it is also because the effort involved in keeping the whole thing together felt enormous (even though a huge amount of any success was due to others). The realisation that I no longer need to worry about all that is truly peculiar and the feeling is one of emptiness. This will certainly lift in the days to come, especially when I am back at home and with Julie, who left yesterday.
Lastly, there is, I am happy to say, just the beginnings of some real happiness creeping in as we compute what we have done for the children of RTP. With all your help, so far we have raised sufficient funding to support around 50,000 children for a whole year. This is a truly staggering accomplishment and each and everyone of you should walk just a little taller today as a result. A huge thank you from me and the team.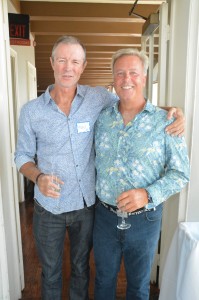 And now let me tell you what happened the day/evening/night of the celebration party on Sunday. We started at the Galvez restaurant in the french quarter, jazz band in the background, drinks in hand. I made a pathetic attempt to thank and welcome everyone, then Simon Holden encapsulated the trip and what we have done – not a dry eye in the house.  By 15.00, I remarked that what I really needed was a quick 30 minute nap to recharge the batteries for an evening out. At that precise point, a large bottle of Glenmorangie was secured and I found myself with Paddy and others, polishing off the whisky and suddenly the need for a nap disappeared.
We magically found ourselves in the Lafitte's Blacksmith bar, which is untroubled by electricity, lit only by candles. I was drinking Hurricanes (look them up), interspersed by pints of beer as a balance. I was wearing Mardi Gras beads (look them up), whilst Paddy was wearing a pair of multi coloured angel wings. The drinks accelerated to long island iced teas (look them up) just as my great friend Chris Mahoney turned up – he flew in from Holland just for the evening. Unbelievable. The pace increased, food was required and the ladies (always the most sensible) secured some tables. I ate a steak with my hands, apparently, and we were gently asked to move on when we started dancing on the bar, the tables being insufficiently robust. Not sure what happened to the others, but Chris and I saw out the night in some style (I think).
The following morning (yesterday) I had a truly catastrophic hangover. I will spare you the more organic side effects, but suffice it to say that a) I could not drink fizzy water on the basis that it was too noisy and b) it took me 8 minutes to put on my underpants.
Now recovered and will wander the streets of this great city today, and very, very excited to see you all soon.