Long distance information
Give me Memphis Tennessee…….
Well, the roller-coaster that is the Mississippi Million continues to roll along and on Friday we reached one of the iconic cities of the US and possibly anywhere. To say that Memphis has a style of its own is something of an English understatement, but more of that anon. First, I must tell you of the final leg to reach here.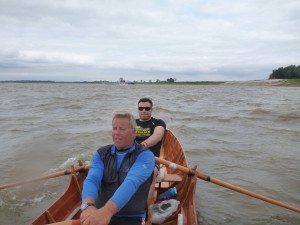 I was with the amazingly stoical Sarkis, without question a man to have alongside you in a trench. We had known that it was due to be a long day, but the recalculations now meant we were facing 49 miles, the first 18 of which would be into a beast of a headwind ad 12-15mph, gusting to 25. Sarkis barely blinked and worked steadily, with me following him and Paddy steering. It was amongst the heaviest winds we have seen and he bore up remarkably well as we pushed through water churned by tugs pushing 35 barges, more than twice the size of the biggest we had seen in the north. After this pull, we swapped in Paddy for Sarkis and the two of us paddled steadily over the next 30 miles, dropping Sarkis back in for the victory paddle over the last mile. A great achievement, but boy was I tired.
Friday night in Memphis. Almost says it all. Revived by champagne provided by Richard Stow, we set off down Beale St, which has to be one the very best music venues. We gorged on dry rub ribs and cold beers, before walking into BB Kings club, which had a band playing and the whole venue dancing. It was fantastic. Although slightly sleazy in daylight, the street comes to life at sunset and parties until the wee hours every night, with the weekend the highlights. Just wandering down the street, you hear fabulous blues from just about every bar and we would have been happy in any of them (and were, in fact, happy in several!).
Hungover and happy yesterday morning, we eased through the morning doing laundry and minor repairs to the boats (just wear and tear), then all set off for the tour of Graceland. Volumes have been written about the shrine that was Elvis Aaron Presley's home, but we all thoroughly enjoyed it. Updated and guided by personal iPads, we eased through the 1970′s kitsch decoration, all against the backdrop of an Elvis soundtrack. Frankly, we were all staggered at the scale of his achievements and legacy. Who knew he had been in 31 films, all of which were financially successful, let alone the hundreds of millions of records sold and still selling. Amazing.

Today is a more sober day in all ways. We are visiting the civil rights museum and are prepared, we think, for a litany of man's inhumanity to his fellow man, and this only 40 years ago. I rather suspect that some of the taint of that period lingers, but happily absent so far from our experience.
We are joined today by Simon Woods, Andy Trahar and Will Docker and I will document our travels as we go, but I wanted to share an insight to the last section of the journey. You will by now be aware of these "recalculations" that have been required. I will avoid the blame game here – that will be for another day – but I wanted you all to understand the implications and what I now face.
The last section was to be 8, then 6, then 4 days to the finish with two rest days after tucked in. Now, it will be 7, then a "rest" day in which Paddy and I row 20 miles, then 11 days straight. In addition, the daily miles have increased to make up the miscalculations to high 30 and 40 mile days. The most obvious issue, therefore, is that this is now going to be especially gruelling through to New Orleans. All the participants joining us know the increased loads and have willingly accepted them. I just hope I can do them justice for their selfless efforts.
As predicted by the medics before I left, after two months my body is taking much longer to recover and heal. Sores now remain instead of healing, so that will add a little piquancy each day. But we will leave Memphis in the very best of spirits, the blues (appropriately!) ringing in our ears as we head south for the final push.
Stay tuned – it's gonna be an adventure……