St Crispin's day…
Luling, Louisiana. 24th October
(With my apologies to Will Shakespeare)
He which hath no stomach for this fight, let him depart. Coins for convoy shall be put in his purse and his passport made, for we would not die in that man's company that fears his fellowship to die in ours. Today is the feast of St Crispian. He that shall live this day, and see old age, Will yearly on the vigil feast his neighbours, And say "To-morrow is Saint Crispian." Then will he strip his sleeve and show his scars, And say "These wounds I had on Crispian's day."
We few. We happy few. We Band of Brothers. For he who sheds his blood with me today shall be my brother.
Could there be a more appropriate quote for this journey, the team and its achievements? Lord knows, blood has been shed in this by those toiling at the oars, lifting boats and equipment and keeping us on schedule.
So, ladies and gentlemen. Tomorrow is St Crispin's day and the last day of our odyssey down the Mississippi. The Crispin's day speech from Henry V is one of my all-time favourites and I can think of no more auspicious end to our journey than it should fall on the 25th of October and give me an excuse (not that I really needed one) to quote a line or two.
In truth, I am using it as something of a screen, as the prospect of finishing tomorrow is pretty overwhelming. How can I in any way adequately summarise my feelings at this point? I cannot.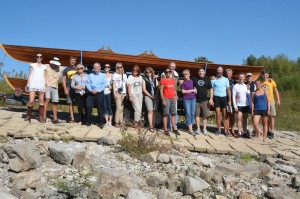 Over the last 24 hours, our group has been swelled by serried ranks of family and friends and still they come. There were 20 odd people on the bank when we arrived today after our 36 miles and there would have been many more if they had been able to find us! Derek Mayne and Simon Holden were the crew with me and Paddy and stalwarts they were too. Novice rowers only a couple of months ago, they rowed through tough conditions with commercial traffic of all sizes and shapes hurtling down the river as we ducked and weaved our way through. Top, top men both.
Tomorrow, we have commissioned a launch to take everyone with us on the last 36 miles of our journey. I very much hope to make this a celebratory paddle, with people dropping into the boats so they can feel that they have been part of the last day. The sense of expectation is rising and folk are plotting and planning, with clinky bags of champagne and beer to greet us when we land. It is very exciting indeed.
But right now I feel as flat as a pancake and all I can think of is my band of brothers. This is exactly the feeling you get when you have striven for a specific target – an Olympics, a World Championship, a Boat Race – and then you achieve your objective. Somehow, oddly, you always feel flat for a while. The enormity of all this will take weeks to sink in, I suspect, and perhaps I will only really begin to see it through the prism of others vision, as mine is too narrow. By tomorrow, with a bright new sunshine day, I shall be ready to embrace the whole scene and be ready to savour some of what we have done. I promise!
So think of us tomorrow, on St Crispin's day, and raise a glass to the band of brothers on the Mississippi.