HOME
ROWING THE MISSISSIPPI TO RAISE $1M
Former Cambridge Blue Rower, Olympic Medallist and Chairman of Right To Play UK: John Pritchard has created his next formidable challenge.
The summer of 2014 will see John row the entire length of the mighty Mississippi in a Victorian skiff to raise $1m for Right To Play.
A challenge that will mean rowing up to 30 miles a day for almost 90 days. He won't be doing it alone though…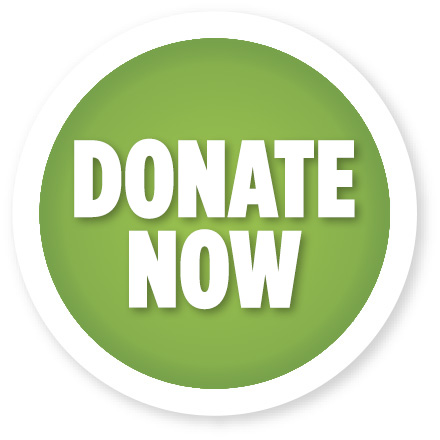 ---
HOW DID THIS CRAZINESS COME ABOUT?
Picture the scene: Ex-Olympic rower John Pritchard, his wife Julie and his 10-year-old son Charlie visit Ghana with Right To Play. They arrive in a place called the Three Kings School in Battor, which is way out in the bush. This school is for children with learning disabilities and physical disabilities.
John and his family were in the school, playing with the kids and John noticed Richmond. "I now know he was 10, the same age as my son, but Richmond was half Charlie's size," says John. "Richmond has down's syndrome and he was too small to play with the big kids, but he was clearly something of a character. All the other kids knew him and all the teachers knew him. He was also bouncing around like a little jumping bean."
And so began John and Richmond's friendship, moreover it led to this, the Mississippi Million challenge. Read the full story here…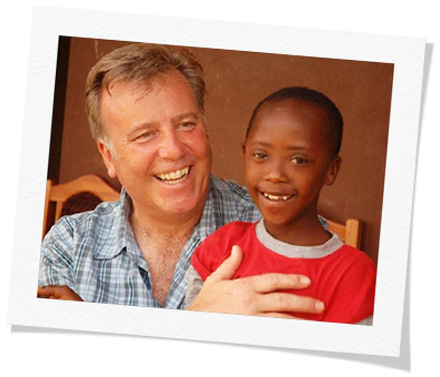 John Pritchard with Richmond
---
THE BOATS
Former Olympic rower John Pritchard has recklessly chosen the most traditional of Victorian boats for this unique challenge.
John Pritchard and 'Challenge Crew' will row the length of the Mississippi in two skiffs. Each skiff has room for two rowers, John will lead one skiff with an experienced rower in the other. The two remaining seats in each boat will be occupied by those brave enough to take on the challenge!
Two skiffs are being built right now just for this challenge. Check in on the progress of the build here…
---
THE GREAT RIVER ROWED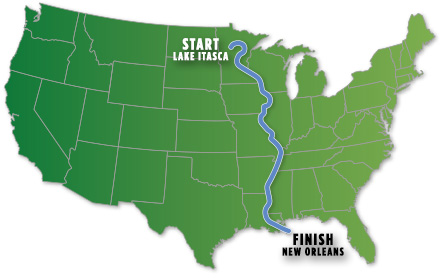 The Mississippi River, "The Great River" is long. Really long.
"Originally I quite fancied rowing the Pacific, which is really bonkers." said John a while ago.
Of course rowing the entire length of the Mississippi isn't bonkers at all!
Find out just how long the river is, how many days the challenge is likely to take, details of the route and each stage, and a plethora of other useful statistics here…
---
THE T-SHIRT
This season's must-have fashion accessory is now in stock!
No challenge would be complete without a T-Shirt.
The Mississippi Million t-shirt is available in a variety of sizes and in either blue or white.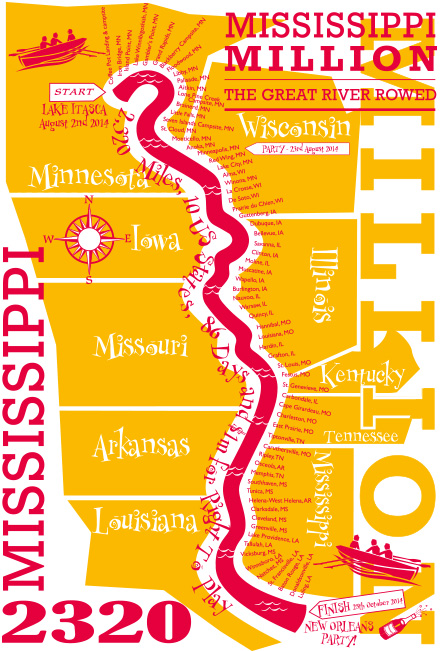 ---
RIGHT TO PLAY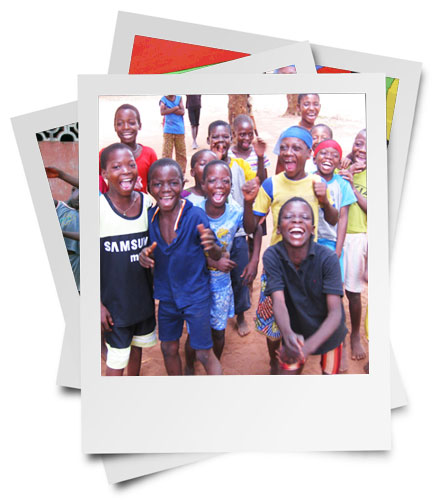 Right To Play is a global organisation that uses the transformative power of play to educate and empower children facing adversity. It was founded in 2000 by Johann Olav Koss, a four-time Olympic gold medallist and social entrepreneur. Through sports and games, it helps children build essential life skills and better futures, while driving social change in their communities with lasting impact. Find out more about Right To Play here…
"Everyone at Right To Play is so excited about the Mississippi Million! John's been a huge supporter of ours for many years and has seen for himself the powerful impact sport and play can have on children's lives. Only someone with John's commitment, enthusiasm and vision would take on such a huge challenge and we want to say a big thank you to him for helping us make a difference to children's lives in some of the most disadvantaged communities in the world."
Karl Reynolds Vice President, Global Partnerships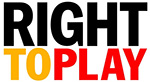 ---

SUPPORTERS

Chris, and the entire team at Oceanwood, have been enthusiastic supporters of the Mississippi Million challenge. Indeed, this enthusiasm has been vividly underlined by the keystone financial support of the project, without which the journey would have been immeasurably harder. In addition, Chris will be rowing with John on long stretches of the river, ensuring we meet our goals both on and off the water!
---

LATEST VIDEOS


An introduction from John Pritchard.
How this challenge came about.
The challenge's challenges.