Messing Around On Boats
MESSING AROUND ON BOATS: THE SKIFFS
Olympic rower John Pritchard has recklessly chosen the most traditional of Victorian boats for this unique challenge.
What's a Skiff?
The word 'skiff' comes from the Middle English for 'ship'. The first skiffs were used to sail down the Thames in the 1800s. They are round-bottom, rowing boats made out of mahogany or cedar.
So all very English?
Exactly. The poet Percy Shelley was a fan of skiffing and died in a skiff accident in Italy. The boats were also made famous by Jerome K. Jerome's iconic book from 1889 Three Men in a Boat.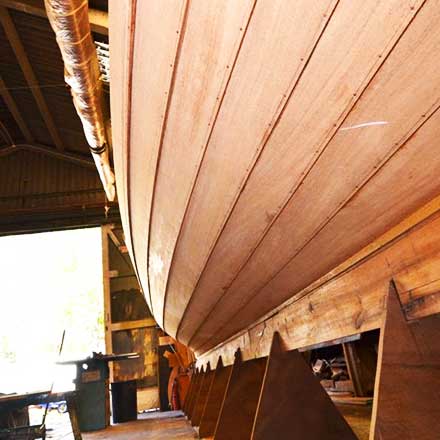 What about nowadays?
There are various skiff clubs and regattas held on the Thames and other rivers in England. Again these are very civilised affairs.
So a skiff on the Mississippi is a real challenge?
Yes. They were traditionally used for leisure or racing. Skiffs are not particularly designed for extreme weather conditions of the type that John will be facing. Nor will they help with the Mississippi's changeable current. Additionally there are some 'trip hazards' along the way such as numerous locks and dams to negotiate.
Why did you choose a skiff John?
"First and foremost these boats are beautiful. Aesthetics are important. They are wide and beautifully-made, they are also pretty stable," says John. "They look as though they should be on a river and the Mississippi may be the Mississippi but it's still a river. I wanted a boat that looks like it belongs on a river."
Has anyone ever skiffed down the Mississippi before?
"No. People have kayaked it or canoed it. Some people have even drifted it, rather like Huckleberry Finn. But this is eccentric and that struck a chord with me. These are traditional, proper Victorian boats. I find that rather amusing. We'll see how I feel about it after 400 miles!"
Our Boat Names
"The boats have now been built and were named on 14th June 2014. Skiff 1 is named after Richmond, the little boy that John met on his visit to Ghana and who inspired the challenge. Skiff 2 is named after Doreen, a volunteer coach in Ghana (Doreen Dzifa)."
Skiffing It
Skiff facts:

The first skiff was rowed on the Thames in 1812
 - The boat John will be rowing the Mississippi will take 3 months to painstakingly handcraft
 - It's made out of a type of West African mahogany called Kahya
 - There are two seats for rowers and a cox's seat
 - John is having two boats made for the challenge, check out their progress below: